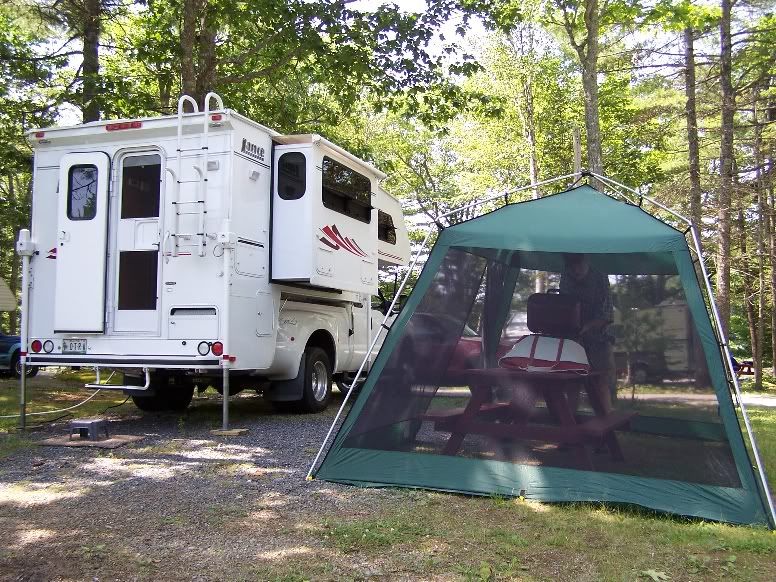 HOT in Boothbay, Maine but cool along the river at Big Pine Point, Shore Hills Campground. Point was out into the Cross River just off the Sheepscot River and from there, out to the ocean. Tidal water on three sides so a bit marshy smelling at times but lots of shore birds and fishing. Temps were in the upper 80s, bugs were fierce. This is an excellent campground with large, wooded sites. Good thing the sites were good size because we crammed 24 Truck Campers into 18 sites and shared hookups. Fun to meet up with new friends met along the road.
There was a shuttle bus from the campground into Boothbay Harbor for those who wanted to play tourist. Since we are local to this area and not far to drive, we took an extra truck and did our own touring out into the small places we've loved for years. Coastal Maine Botanical Gardens on Barter's Island are new spectacular flower gardens not even finished yet. http://www.mainegardens.org/. Acres and acres of beautiful plantings, stone walkways, paths, benches, sculpture, walks into unspoiled forests right by the river. This is a MUST see place if you enjoy gardens. The stonework and arbors are worth going for alone.
Skipped the lobster, had fun at a pot luck dinner and all too soon back home and our own gardens which need weeding and mulch as usual. The truck camper rig performed flawlessly once again. As hot as the day was, evening cooled off enough so we didn't run the air conditioner. However AC noise might have made sleeping early AM a bit easier because it would have drowned out the crows who started calling at 4:38AM! Next trip? Maybe back up to Kingsbrae Gardens in St. Andrews, New Brunswick.