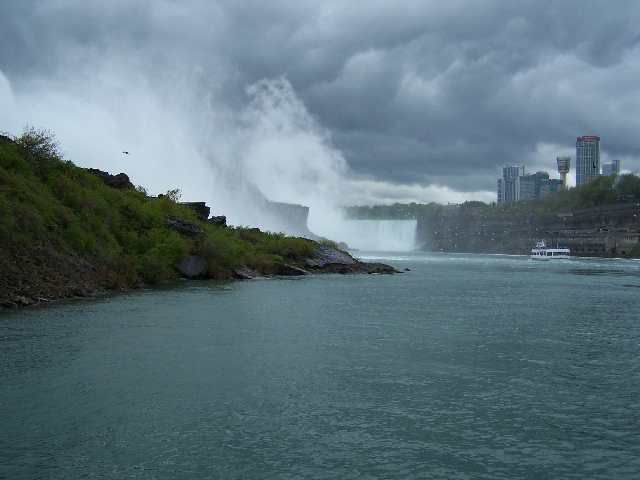 On the Road Again - this time to Niagara Falls, NY to see the famous falls and play tourist. This is a place on earth that both Joe and I had always wanted to see. 635 mile drive to get here from Maine but we took our time through the mountains of both NH and VT. Stopped at King Arthur Flour for their annual sale but it was pretty wiped out by the time we got there. Also went to Montshire Museum which is a hands on science museum also in Hanover, NH. Great for kids and we both enjoyed being kids and doing all the experiments. Rain continues to plague us but the LL Bean rain gear is perfect.
I did score a large number of Jamieson and Smith Fair Isle weight knitting skeins at a small VT store. She had the skeins in a trash bag in a closet because they were not selling well and took up too much room. My coup at $3.00 a skein. Best buys were the color Coral and a tweedy blue both in 8 ounce skeins.
We are staying at a KOA in Jamestown, NY. Very clean, quiet, well maintained spot. We took a bus tour into Niagara yesterday with one other couple/campers our age and had a great time. The "Maid of the Mist" boat trip is not to be missed. You literally float under the falls with spray and water pouring over you. Of course my camera battery died! We also walked down into the "Cave of the Winds" under the Bridal Veil Falls. That was awesome, very cold, wet and a true adventure. It was 43 degrees and we didn't thaw out for hours. Good campers that we were, we joined each other for a pizza supper. Joe and I also went back into Niagara today and walked about a total of 5 hours seeing what we hadn't seen yesterday. This included walking over the Rainbow Bridge into Canada. To be kind, where you land in Canada is quite tacky, geared towards souvenirs and you don't get to see any of the real Canada. Lines to cross the border were just too long to take the truck camper over and see the countryside. That will be another trip.
Headed east tomorrow to find more adventures. Truck Camper is working perfectly except for the mystery of why the bathroom vent hatch keeps coming open. Fellow TCers at
http://rv.net
on the truck camper forum are giving hints on how to fix it.
Very tired, quite content at all we have seen, glad our house sitter is so good and ready for more travel tomorrow.